Leonora Carrington - Wikipedia, the free encyclopedia
en.wikipedia.org/wiki/Leonora_Carrington
Leonora Carrington OBE (6 April 1917 – 25 May 2011), was a British-born–Mexican artist, surrealist painter, and novelist. She lived most of her adult life in ...
Leonora Carrington: wild at heart
She ran off with Max Ernst, drank with the surrealists – and kept her tea under lock and key. Charlotte Higgins on the dazzling life and art of Leonora Carrington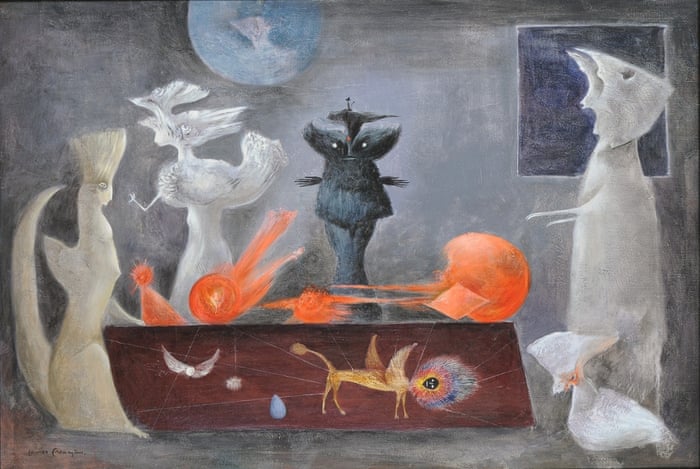 Carrington's life calmed into stability only when she settled in Mexico City with her second husband Chiki Weisz, whom she married in 1943. She lived there from the late 1940s until her death in 2011. The consistent element was her art: wonderful paintings in which mingle the fantasies of Bosch, the elegance and spatial understanding of the quattrocento and her own personal mythology (drawing on Catholicism, Jewish mysticism and Celtic elements to create an utterly individual and at times impenetrable symbology). And yet, despite their fantastical elements, when you encounter them they seem natural and familiar: they might be the paintings of one's own dreams. As Luis Buñuel once wrote of her work, it "liberates us from the miserable reality of our days".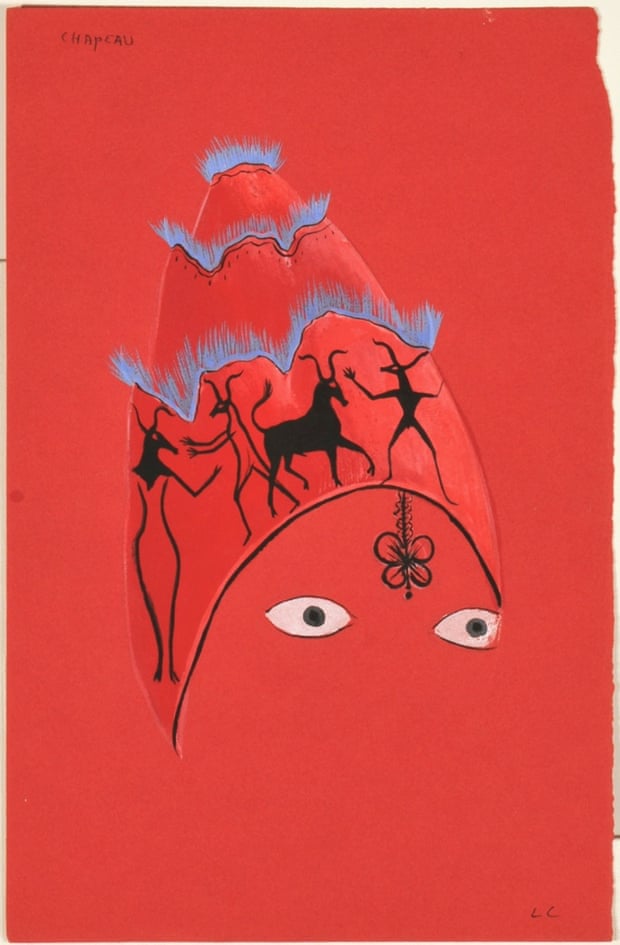 Aridjis's family met Carrington through a mutual friend, a doctor called Teodoro Césarman who, she says, treated all Mexico City's exiled artists and writers – flung there on many currents from Europe during the war – in exchange for books and pictures. After that, from the age of 12, every Sunday she would visit the artist, in her "rather spartan and gloomy" house with bronze sculptures in the corners of the living room. Guests would be welcomed into the kitchen. Aridjis remembers a woman who would often slip into Spanish or French mid-sentence, but who was "so extremely British ... she seemed remarkably unchanged, not even one per cent changed by geography". There were postcards of the Queen Mother, the Queen and Princess Diana taped to the kitchen cabinets – "expensive but harmless", was how Carrington described the royal family. When Aridjis began to travel to and from Europe the artist would request boxes of PG Tips or Yorkshire Tea that would be kept "in a cabinet under lock and key in her kitchen – she carried the key on a string around her neck". Carrington and Weisz – a Hungarian photographer who lost many family members in the Holocaust – would speak together in French, the old-fashioned French of the 1930s. She loathed any kind of social convention and, says Aridjis, "was extremely uncompromising. She hated false diplomacy – she could be very sharp, and even make people cry." She was happiest at home; she was devoted to her two sons and her cats, and the tree she had planted as a young woman in the front yard. "There was this idea of creating your own universe and not needing anything beyond it," says Aridjis.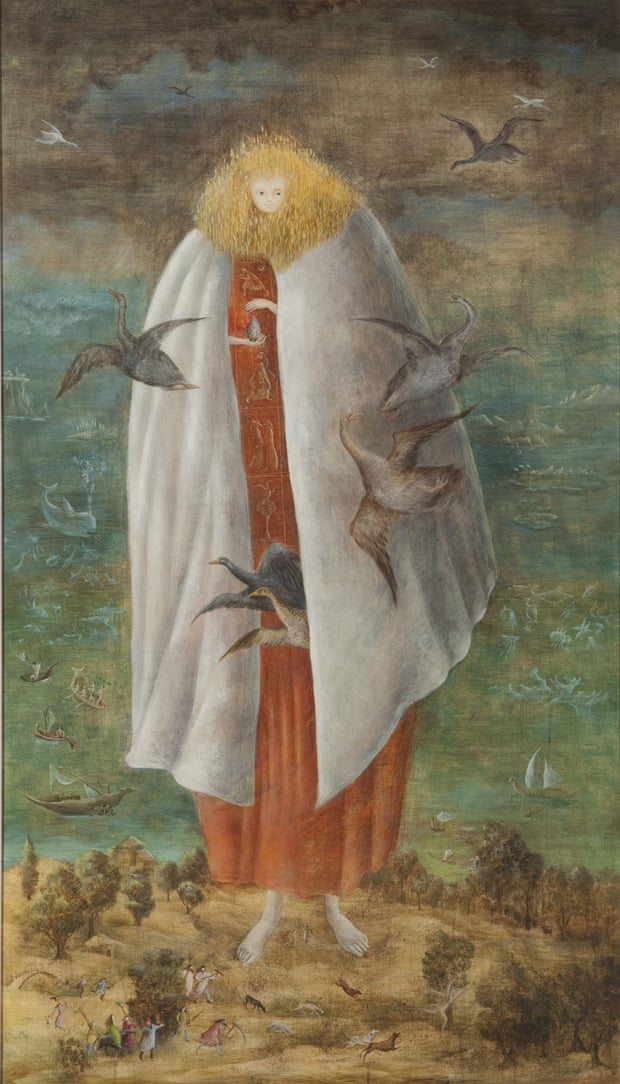 She spent the first part of her childhood in a gloomy gothic pile in Lancashire riding (and to her later regret, foxhunting). She was passionately attached to animals, a love that persisted and is evident in the magical bestiary of her art, her paintings a menagerie of cats and dogs and birds but also griffins and salamanders and many nameless creatures that hover between human and animal. She was expelled serially from Catholic boarding schools; she seemed to have an inbuilt loathing of institutions and authority of all kinds. Her short story, The Debutante – in which the young narrator of the story, about to have a ball held for her, swaps places with a hyena, with gruesome consequences – gives a sense of her absolute hatred of the tropes of upper-class life (and also, perhaps, of the nastiness and even violence veiled beneath manners and polite rituals). Nonetheless, her writing does have a kind of crystalline detachment and light irony that connects her to her class and to a literary tradition that includes Lewis Carroll and Edward Lear.
The relative peace did not last: as war broke out, Ernst was in a doubly insecure position as an enemy alien (as far as the French were concerned) and a painter of "degenerate art" (as far as the Germans were concerned). He was arrested; Carrington's mental state deteriorated. Friends arrived and urged her to come with them across the Spanish border; at length she was put in an asylum and given a course of Cardiazol, a drug designed to induce convulsions similar to those resulting from electric shock therapy. Her memoir of these events is a pretty horrifying read; it is titled Down Below as if the experience had involved a spiritual descent to the underworld; indeed her paintings often describe places or states that hover between the ordinary, everyday world and another zone of dreams or death.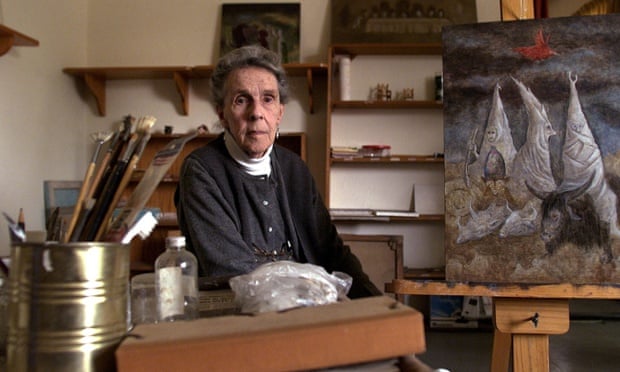 Her account of her escape from this situation is also remarkable. Her parents planned to send her to another institution, this time in South Africa, and she was accompanied to Lisbon so that she might take a ship. She told her chaperone she needed to go to the lavatory, nipped into a cafe, ran out of the other exit and into a cab which she had take her to the Mexican embassy, where she knew a diplomat, Renato Leduc. He did indeed come to her aid – by marrying her and taking her with him to Mexico (via New York, where she once served André Breton a meal of hare stuffed with oysters). She never saw her father again. No wonder, perhaps, that after this life of reversals, flights, expulsions and exiles, she craved routine in Mexico City. Aridjis remembers someone "sane and stable but giving the impression that she lived in a permanent state of anxiety – had no inner peace". One day, the neighbours sent in workmen to prune the overhanging branches of the tree she had planted in her front yard decades before. She passionately, angrily, pleaded with them to let its wide-spreading boughs alone.
Leonora Carrington opens at Tate Liverpool today!
http://ow.ly/K0CBD