Jean-François Millet
史書說他的素描影響更大為多名藝術家所崇敬--一些標本圖
NYT
Arts Abroad; First, van Gogh's Millet, Then van Gogh's van Gogh
At first sight, the new show at the Musee d'Orsay suggests a bizarre attempt to resuscitate a neglected 19th-century French painter by exhibiting him alongside a rather more famous name. In truth, the idea of uniting Jean-Francois Millet and van Gogh is far more interesting. Since the Dutchman looked to the Frenchman as a role model, Millet's life and work serve as a mirror that reveals much about van Gogh.
Of course, van Gogh's name alone would suffice to draw crowds to ''Millet/Van Gogh'' just as it is doing to ''Van Gogh's van Goghs'' at the National Gallery of Art in Washington. Both exhibitions, which run through Jan. 3, have also benefited from the closing for renovation of the Van Gogh Museum in Amsterdam, which has sent 70 paintings to Washington and provided 27 of the 53 van Goghs on display here. Millet, however, gives the Paris show an unusually strong theme.
The exhibition displays two dozen or so of Millet's paintings and engravings alongside van Gogh's copies of the same works as well as others inspired by Millet's pastoral themes. It also records van Gogh's progress as an artist: his early copies are clumsy; his later copies overwhelm the originals. Yet his identity with Millet ran much deeper.
He never met the French naturalist painter, but he was immediately impressed when he came across his drawings and engravings of peasant life at an exhibition in Paris shortly after Millet's death in January 1875. Five years later, when van Gogh himself decided to become an artist, he acquired copies and photographs of some of Millet's work to assist his early drawing efforts.
More significantly, in 1882 van Gogh obtained a copy of Alfred Sensier's new biography of Millet, and it proved a revelation. Its pages portrayed Millet as a man of piety, virtue, simplicity and courage whose proximity to nature and peasants tilling the land exuded a spirituality that spoke to van Gogh's own search for a meaning to life. The Dutchman, who had turned away from the formal Christianity of his pastor father, found a new pantheistic father-guide in Millet. ''It gives me courage to read Sensier's book about Millet,'' he wrote to his brother Theo.
In 1883, now 30, van Gogh returned to Nuenen to live with his parents, but his objective was to move closer to nature, indeed to follow the rustic peasant life style that Millet supposedly adopted during his final 26 years of life at Barbizon. In another letter to Theo, van Gogh wrote that Millet ''desired nothing more'' than to share ''the food, drink, clothes and sleep'' of the peasants. Soon van Gogh himself assumed the appearance of a peasant.
To those who knew Millet in life, however, Sensier's account was more hagiography than biography. Millet may have worn clogs and simple clothes, but he enjoyed the company of artists and writers. He had been poor, but not from choice, and in later years his paintings sold well. He was presented as a man of fervent faith, but he was apparently an agnostic. In brief, van Gogh was devoted to a Millet who probably never existed.''If semi-truths pervade Sensier's book, it is no less true that, using elements of the biography, van Gogh created his own image of Millet, one into which he projected a great deal of himself,'' wrote Louis van Tilborgh, chief curator at Amsterdam's Van Gogh Museum and one of the organizers of this show. ''Van Gogh then supported his vision of Millet through his careful selection of Millet's major works.''
In Nuenen, van Gogh was able to find his own subjects among the local peasantry, but his principal inspiration remained Millet. As early as 1881, van Gogh had copied perhaps Millet's greatest work, ''A Sower'' (1850), and he would return to the subject triumphantly years later, although his early version compares poorly with the original. He also did his own variations of Millet's ''Potato Planters'' and other farming scenes, struggling by his own admission to capture figures in movement.
Like Millet, van Gogh showed little interest in the faces of peasant farmers, which often appeared blurred or in shadow. When he did, as in ''Potato Eaters'' and two portraits of peasants, all done in 1885, he painted them as physiognomically primitive, as if ''a resolutely animal expression,'' as Mr. van Tilborgh put it, brought them closer to nature.
In 1884, having already declared Millet to be his ''father'' and ''eternal master,'' van Gogh wrote to his brother: ''For me, it is not Manet, but Millet who is the essentially modern painter who has opened the horizons for many others.''
In March 1886 van Gogh moved to Paris, and Millet's influence suddenly receded. The Dutchman discovered Impressionism and befriended bohemians like Toulouse-Lautrec and Gauguin. His own painting also changed radically, abandoning Millet's mid-19th-century Neo-Classicism and somber colors for the thick brush strokes and vivid colors that would make him famous.
Yet when van Gogh returned to the countryside, moving to Arles in February 1888, Millet re-entered his life. He turned again to Millet's themes, but he now attacked them with violent yellows and blues that reflected the wheatfields and skies of Provence. He was also ready to try his hand afresh with a new ''Sower'' series, climaxing with one of his most dramatic works, showing a large sun rising behind the darkened figure of a sower, with a gnarled and blackened tree truck cutting across the entire image.
In April 1889, increasingly aware of his mental instability, van Gogh checked into a hospital at St.-Remy-de-Provence, but after a break he resumed painting. Working from engraved copies, he completed his own copies of a series of 10 oils painted by Millet in 1852 called ''Work in the Fields,'' each showing some aspect of peasant labor. During this period, he also painted ''Noon: Rest from Work'' from an engraving of ''La Meridienne'' (''Midday''), which Millet executed in 1866.
''The copies of Millet are perhaps what you do best,'' Theo wrote to van Gogh at the time.
Even with ''Starry Night'' (1888-1889), in which the gaslights of Arles shimmer in the water of the Rhone, van Gogh seems to be following his mentor, who painted a ''Starry Night'' above a shadowy countryside in the late 1850's. Yet there is no evidence that van Gogh ever saw a copy of Millet's version. Perhaps by then, he was working purely on instinct. ''I have a terrible need for -- I will use the word -- religion,'' he wrote to Theo nine months before his suicide at in July 1890, ''so I go outside at night to paint the stars.''
梵高(Vincent van Gogh)160歲/ 梵谷書簡 The Letters of Vincent Van Gogh/ Van Gogh's Evolution
Van Gogh's Evolution, From Neophyte to Master
By
TED LOOS
Published: October 26, 2012
There are some artists on whom the sun never sets.
Van Gogh Museum Amsterdam
Multimedia
The latest major entry is "Becoming van Gogh" at the Denver Art Museum. The exhibition, featuring 70 works by the master and 20 by other artists who inspired him, is scheduled to remain on view until Jan. 20 and does not travel to any other sites.
The show traces van Gogh's development through the 1880s from a struggling, inhibited neophyte, represented by works like the drawings "Girl Carrying a Loaf of Bread" (1882), to a painter in full flourish who could make the shimmering "Landscape from Saint-Rémy" (1889).
Timothy Standring, the curator who organized the Denver show, has his own version of Mr. Rishel's Beethoven analogy: "Can there be too many books about Shakespeare?"
But while van Gogh's reputation virtually guarantees that people will flock to the show, "It's the hardest kind of exhibition to put together," Mr. Standring said.
The trick for curators is twofold. First, they must come up with a fresh angle on an artist who lived to be only 37 and consequently did not produce as many works, as, say, Picasso. Second, they have to secure loans of incredibly valuable artworks from museums that might be reluctant to share.
He added, "We don't even have a van Gogh in our collection."
Mr. Standring's first step was to make a call to Amsterdam. "When you plan a van Gogh exhibit, you need to get blessing of the Van Gogh Museum," he said, because of its ability to lend works and share its expertise.
In discussions with Louis van Tilborgh, a senior researcher there, Mr. Standring laid out an idea for one exhibition — a focus on van Gogh's work from 1888 — but it was deemed logistically too difficult to mount.
But his second idea, a look at van Gogh's crucial years in Paris, became the seed of the current show, which expanded to cover a whole decade.
Mr. Standring said he wanted to give nuance to the popular perception of the artist as sui generis. "People are generally unfamiliar with anything pre-"Sunflowers" or pre-"Wheatfields," he said, referring to two of van Gogh's iconic later series. "We're doing corrective art history."
Van Gogh's struggles with illness and the artistic flourishing of his last two years may have warped the public's perception of his learning curve, Mr. Van Tilborgh said.
"We all think he's a genius, but he placed a lot of value on craftsmanship. When he started, he had no talent for drawing. If you look at his early drawings, they're horrible. So how did he develop?"
The answer, Mr. Van Tilborgh said, was persistence. "If he couldn't do it, he tried it 50 more times. He was one of those rare artists who had the energy to work through the fear of failure."
"Becoming van Gogh" gives particular attention to the period the artist spent in Paris, staying with his brother Theo and studying color theory.
"He was hovering in Paris for two years," Mr. Standring said. "Maybe we're fortunate he didn't land. He might have turned into a second-rate Impressionist."
Works from that period in the exhibition include "People Strolling in a Park" (1886) and "View of a Park in Paris" (1886), neither of which resembles the late-career masterpieces that made him famous after his death.
Also featured is a Paris work with a strange past: "The Blute-fin Mill" (1886). The painting — an unusual depiction of a group of people, rarely tried by Van Gogh — was bought from a dealer in Paris by the controversial Dutch curator Dirk Hannema in 1975.
"His reputation was so bad in the 1970s after the Vermeers," Mr. Van Tilborgh said. "But when we investigated, we came to the conclusion that he was right about the van Gogh." The painting was authenticated in 2010, and it was lent to Denver by the Foundation Museum in Heino, the Netherlands.
Mr. Van Tilborgh's enthusiasm led the Van Gogh Museum to lend seven works to the show, including "Self-Portrait With Straw Hat" (1887). He also edited the catalog with Mr. Standring.
"That gave us our imprimatur," Mr. Standring said of his attempts to pry other van Goghs out of other institutions.
One major Midwestern museum proved the hardest sell. "It took eight asks, including in-person trips, to get them to agree," Mr. Standring said, declining to name the institution.
"You have to be prosecutor, defense attorney, psychologist, sociologist and diplomat to do this kind of show," he added. "They don't teach you all that in art history graduate school."
Usually, the Van Gogh Museum tries to stagger major shows of the artist's work at other museums, so that loans are easier to get and its own resources are not taxed.
So what Mr. Standring called "the beautiful confluence of two big van Gogh shows in a year" — his own and Mr. Rishel's — could have caused problems all around.
But the curators played nice, which was easier given that their points of focus were different. Mr. Rishel was primarily exploring van Gogh's perspective on nature, so the Philadelphia museum was more willing to lend an important portrait, "Portrait of Madame Augustine Roulin and Baby Marcelle" (1888), to Denver.
"I shared my checklist early on with Joe, and he was very generous and very cordial," Mr. Standring said. "And I helped arrange for one picture to go to his exhibit."
Mr. Standring added that he hoped both shows — with their highly specific, nonblockbuster approaches — would deepen an understanding of the artist.
"Maybe this represents a maturity of van Gogh exhibitions," he said. "Thematic, instead of just a collection of great objects."
en.wikipedia.org/wiki/
Vincent
_
van
_
Gogh
- Cached
Vincent Willem van Gogh was a Dutch post-Impressionist painter whose work, notable for its rough beauty, emotional honesty and bold color, had a far-reaching ...
*****
我有一版本
The Letters of Vincent Van Gogh
, Penguin Classics, 1996
*****
經過一世紀多的整理:
Van Gogh Letters
– The complete letters of Van Gogh, translated into English and annotated. Published by the Van Gogh Museum.
Version: June 2012
Edited by Leo Jansen, Hans Luijten and Nienke Bakker
The letters are the window to Van Gogh's universe.
This edition, the product of 15 years of research at the Van Gogh Museum and Huygens ING, contains all Van Gogh's letters to
his brother Theo
, his artist friends
Paul Gauguin
and
Emile Bernard
, and
many others
.
Here you will find the letters in the latest edition (2009), richly annotated and illustrated, with new transcriptions and authorized English translations.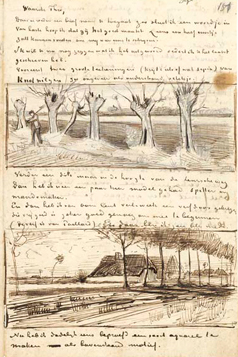 *****
名譯家雨云的作品
翻譯的底本是 I. Stone夫婦的選本 出版社誇說全集是井底之蛙
梵谷書簡全集
作者:梵谷/著
譯者:雨云
出版社:藝術家
出版日期:1990年
梵谷是偉大的畫家;也是世上最孤的靈魂之一。他活著的泰半日子裡,身旁幾乎沒有一個可以信託,可以敘述快樂、苦難的人。他在世的最後十年,也就是他沈迷征 服了繪畫藝術的期間,他渴求對一個人傾述他那澎湃的生命,和徐緩成熟的技藝之所思所感的一切事物。然而卻難找到一位願意了解他想說什麼的人。於是一部自傳 誕生了。文生、梵谷用筆向他的弟弟-西奧傾吐心聲,如此,他寫下了感人的生命故事。
昨天是荷蘭後印象派畫家梵高(Vincent van Gogh)160歲冥壽,他生前繪畫了多幅《向日葵》,分散在全球不同的博物館展出。為慶祝一項10年的「梵高研究計劃」踏入高潮,阿姆斯特丹梵高博物館及倫敦英國國家美術館將輪流展出兩幅「向日葵」,使兩地遊客有機會看見兩幅「向日葵」並列的奇景。

《向日葵》(Sunflowers,1888年)。

【本報國際組報道】昨天是荷蘭後印象派畫家梵高(Vincent van Gogh)160歲冥壽,他生前繪畫了多幅《向日葵》,分散在全球不同的博物館展出。為慶祝一項10年的「梵高研究計劃」踏入高潮,阿姆斯特丹梵高博物館 及倫敦英國國家美術館將輪流展出兩幅「向日葵」,使兩地遊客有機會看見兩幅「向日葵」並列的奇景。

  準備輪流展出的兩幅畫,同樣畫了15朵向日葵,其中倫敦收藏的初版於1888年末期完成,翌年初他又畫了阿姆斯特丹收藏的新版本,顏色更明亮, 而且多了藍色的種子。梵高博物館館長魯格(Axel Ruger)表示,這兩輻畫將向遊客展示梵高並非傳言中的瘋子。他說:「梵高的藝術創作富條理,這與一般理解指他在畫布上瘋狂亂潑顏料的形象很不同。研究 顯示梵高是很認真地仔細繪畫,他有研究其他藝術家的作品,並學習色彩理論。」

  梵高在全心作畫前,曾做過藝術品買賣及傳教士,也關心低下層農民的生活苦況,早期如《吃馬鈴薯的人》、《一雙鞋子》等油畫,靈感正是來自貧民, 惟盡是陰沉暗黑色彩,表現憂鬱。畢生只售出一幅《紅色葡萄園》的梵高,一直靠弟弟西奧接濟,兩人感情要好,來往的上千封書信,助後世窺探梵高創作的心路歷 程。

  2個版本難得輪流展出

  梵高正式學畫畫後,33歲時到法國巴黎居住,並結識了高更(Paul Gauguin)等同時期的畫家;至遷往南部城鎮亞爾後,油畫用色由一向陰沉轉趨明亮,特別愛用大量鮮黃色。亞爾時期的名作,包括住處《黃屋》、用來迎接 畫家朋友高更的《向日葵》等。梵高後期光明亮麗的畫風,以及大膽的粗筆觸,成為作品的標記。

  梵高與高更本是好友,但有說法指高更出於嫉妒,曾經買通妓女,向梵高佯言想要他的耳朵作聖誕禮物,喝醉的梵高竟「照單全收」割下左耳。不過,有說法稱,兩位畫家吵架後,高更盛怒下用劍割掉梵高左耳。

  梵高的愛情生活亦波折重重,初戀是上流富家女,後戀上表親而觸怒擔任神職的爸爸,父子決裂。後來對懷孕妓女一見鍾情,並節衣縮食助養生下的孩子,可惜妓女恩將仇報,偷錢吃喝玩樂。唯一愛過他的瑪戈特因家人干涉,最終與梵高未能開花結果。

  梵高晚年傳患上精神病,終在37歲時懷疑開槍自殺,另有指他被小童玩槍時走火誤殺。