Arts & Life

Artists
Who Turn Information Into Beauty
Viz Whiz
How artists are mining data sets to make you see the unseen.
Posted Wednesday, Aug. 20, 2008, at 4:54 PM ET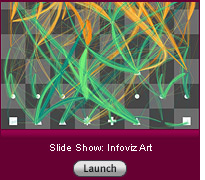 Click here for a slide show about art that uses information patterns as paint.
.



Display an unwieldy mass of data in clever visual form and you may gain über-insight into questions you hadn't yet put into words. That is the promise of information visualization, infoviz for short. The field has long helped scientists, engineers, and businesspeople see the unseen as it emerges from complex data: Users may spot promising molecules for pharmaceutical testing, for instance, or pinpoint glitches in a supply chain. As infoviz has matured, it has also caught fire as an art form, its center of gravity edging further from the pragmatic and closer to the expressive or the whimsically profound.

Infoviz art may play with quirky accumulations like blog snippets of romantic breakups or online dating profiles (as in the piece at right). It often asks idiosyncratic questions: How does a chess program think? How popular is my name? And, in the tradition of some other contemporary art, it tends to treat ideas and information as a form of paint.

This art form is making inroads at universities and on the Web, and it has gained currency in tech and design circles. It has inspired some press and a handful of shows, and has featured in minor ways in museum exhibitions, in particular the Museum of Modern Art's "Design and the Elastic Mind" show earlier this year. For the most part, though, infoviz is awaiting its public crowning as a coherent and vital art movement. Still, it's got a high wow factor—worth checking out.