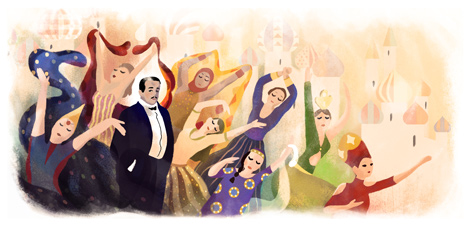 https://en.wikipedia.org/wiki/Sergei_Diaghilev
Sergei

Pavlovich Dyagilev; IPA: [sʲɪˈrɡʲej ˈpavɫəvʲɪtɕ ˈdʲæɡʲɪlʲɪf]; 31 March [O.S. 19 March] 1872 – 19 August 1929), usually referred to outside Russia as Serge, was a Russian art critic, patron, ballet impresario and founder of the Ballets Russes, from which many famous dancers and choreographers would arise.
https://www.theguardian.com › Arts › Stage › Dance
Sep 11, 2010 -

Sergei Diaghilev

: first lord of the dance. ... In the tangled narrative of 20th century art, there is no more colourful or influential figure than

Sergei

Pavlovich

Diaghilev

. ... The adventure began in 1909, when

Diaghilev

arrived in Paris with a troupe of dancers recruited on their summer ...
www.biography.com/people/sergei-diaghilev-37296
Jan 18, 2016 -

Sergei Diaghilev

was a Russian artistic visionary and founder of Ballets Russes, which profoundly shaped the course of the dance/performance world.
2013
Celebrating 100 years of Stravinsky's 'Rite of Spring'