Ellsworth Kelly in a free exhibition at
Tate Liverpool
:
http://ow.ly/J4rR30aYUhP
Ellsworth Kelly, Méditerranée 1952 © Ellsworth Kelly
Ellsworth Kelly
Painter
Ellsworth Kelly is an American painter, sculptor, and printmaker associated with hard-edge painting, Color Field painting and the minimalist school.
Wikipedia
Born
: May 31, 1923 (age 92),
Newburgh, New York, United States
Kelly, one of the greatest American artists of the past century, has died at 92.
Artist Ellsworth Kelly, Master Of Colorful Abstraction, Dies At 92
Kelly was recognized as one of the greatest American artists of the 20th…
NPR.ORG|由 MORNING EDITION 上傳
MoMA The Museum of Modern Art
Ellsworth Kelly changed the face of art. At 92, he's still not done
American painter's intense, humming hues were groundbreaking and he's building on his experiments in Paris in the 1950s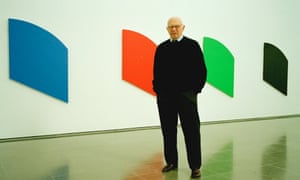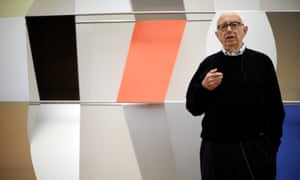 Many of his earliest works were proficient, if safe, portraits of himself and his friends – such as a suggestive painting of a young man in the bath, its forms indebted to Gauguin. The gent in the tub was a fellow artist. "We used to hitchhike down from Boston to New York, to go to the Modern [ie the Museum of Modern Art] all the time. So I wasn't not educated about the School of France. And I'd been in Paris a bit during the war, but then all the museums and galleries were closed. My dream was to go back. And as soon as I could, I did."
He pauses. Then: "It was wonderful. It was the best time of my life, I guess." And he smiles the smile of a man whose youthful expedition changed painting for good.