Why Henri de Toulouse-Lautrec is much more than Google Doodle's poster boy
On his 150th birthday, the subversive artist has been misremembered by Google as a man who just made posters for nightclubs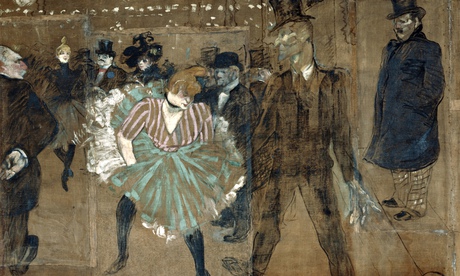 Google is celebrating Henri de Toulouse-Lautrec's 150th birthday by reducing him to a pop-culture cliche. Its Google Doodle shows the resident artist of the Moulin Rouge perched on a stool in front of a row of can-can dancers making a poster that says Google Google Google.
It's the thought that counts, and at least they remembered his birthday. Nor is it Google's fault that we have such a thin and inaccurate understanding of one of the most radical, raw and courageous of all modern artists.
This image of the Moulin Rouge is far more savage and dangerous than those overpromoted posters make it seem. This is a deliberately primitive work of art, unfinished, wrecked by weather, later cut up and patiently reassembled. In its matching work, Oscar Wilde, a sad exile, is among La Goulue's bohemian audience. People are strange, rough silhouettes, and dance is a self-destructive orgy of senseless energy, in these great, shocking paintings that put you right there in the real, dangerous Paris of the 1890s.
It is easy to see from these rock'n'roll paintings why the young Pablo Picasso imitated Toulouse-Lautrec when he first visited Paris. In fact, Toulouse-Lautrec influenced Picasso's concept of art throughout his career. Picasso's frenetic brothel scene Les Demoiselles d'Avignon echoes the raw energy of those panels on La Goulue's fair booth. Interestingly, it too is square-shaped and intimidatingly big – although not quite as big as Toulouse-Lautrec's two low-life history paintings.
He'd be 150 if he were alive today. But think about that. It means that in 1954 he would have been just 90. He could have lived into the age of Jackson Pollock, Elvis Presley and Marilyn Monroe. He is not so far from us as the hackneyed Montmartre movies make us think. Happy birthday Toulouse-Lautrec, spirit of modern freedom.