Art should be something that liberates your soul, provokes the imagination and encourages people to go further' -
#
KeithHaring
, born on this day in 1958.
Join us in Liverpool for Keith Haring's first, major UK exhibition, with more than 85 artworks spanning the artist's short but spectacular career. Opens 14 June at
Tate Liverpool
:
http://bit.ly/2WlrySn
Keith Haring, Untitled 1986, Collection Emmanuelle & Jérôme de Noirmont, Paris © Keith Haring Foundation
Mecanoo
8月23日
·
#KeithHaring
mural revealed at Mecanoo's new masterplan after being hidden for 30 years!
Now that the mural is out in the open, the
Stedelijk
, Keith Haring Foundation,
Gemeente Amsterdam
and the project developers of Marktkwartier West designed by
Mecanoo
will continue the dialogue to see how the mural can be best preserved for the future.
More at
http://bit.ly/2J8HD6I
Keith Spotlight on Keith Haring
Haring was known for combining the appeal of cartoons with the raw energy of street art, as seen in "Untitled" (1983) and "Radiant Baby (from Icons)" (1990). These two signature works by the sought-after artist are live for bidding now in our current "Pop Art" sale. Browse and bid before this auction comes to a close on May 31:
https://artnt.cm/2kev5R0
38
Haring, The Blueprint Drawings, 1990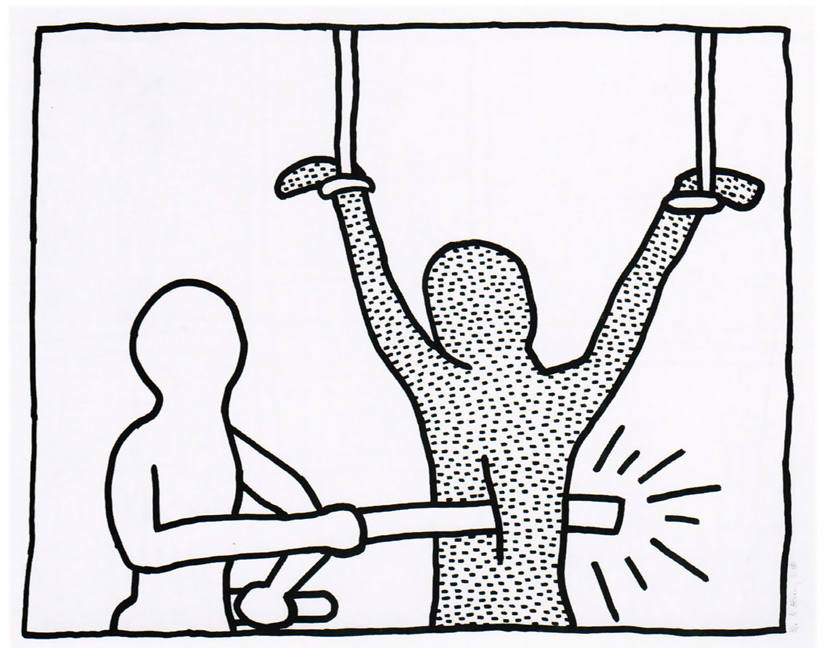 Keith Haring
The Blueprint drawings #7, 1990
Hamilton-Selway Fine Art
Keith Haring
The Blueprint drawings #14, 1990
Hamilton-Selway Fine Art
From 1980 to 1981, before shooting to fame,
Haring
created a suite of black-and-white Sumi ink drawings that were intended as blueprints from which to make copies. The drawings feature Haring's signature pared-down lines and recurring motifs, including androgynous human figures, often engaged in violent or sexual acts; UFOs; dogs; and pyramids. In early 1990, Haring returned to the drawings he had created nearly a decade prior, turning them into a portfolio of screenprints. The drawings are both touching and urgent in the way they address same-sex love and the AIDS epidemic, and Haring made the portfolio just one month before his death from the disease.
Keith Haring's penis drawings,
Gertrude Stein
's book for children,
Thomas Mann
's fascist asshole, and other news.
Keith Haring's Book of Penis Drawings Is Better Than It Sounds
This and more in today's roundup.
THEPARISREVIEW.ORG|由 DAN PIEPENBRING 上傳
More images
Keith Haring
Artist
Keith Allen Haring was an American artist and social activist whose work responded to the New York City street culture of the 1980s by expressing concepts of birth, death, sexuality, and war.
Wikipedia
Born
: May 4, 1958,
Reading, Pennsylvania, United States
Died
: February 16, 1990,
New York City, New York, United States
Education
:
School of Visual Arts
(1978–1980)
MOT TIMES 明日誌
18小時
·
編輯紀錄
·
2015年還沒過完,2016年1月就有讓設計迷值得興奮的大事!沒錯,明年元月,美國塗鴉藝術家,凱斯哈林(Keith Haring)的作品將首度在台灣舉行「普普.塗鴉,凱斯哈林特展」啦!
要提起凱斯哈林的與眾不同之處,就得從城市街頭說起。地鐵中張貼的海報,就是他的畫紙,他以最易取得的粉筆,在人群來往的地鐵作畫。英年早逝的凱斯哈林,曾表示作為藝術家將盡所能地永遠畫下去。那些以簡單的線條輪廓和大膽色彩呈現的作品,不只傳達強烈的情緒,更傳達了他對愛、死亡、自由、新生、戰爭的思考。
而這一次在台展出的內容,將空運日本中村凱斯哈林美術館(Nakamura Keith Haring Collection)的珍藏作品,將展出包括畫作、雕塑、攝影作品與出版品等133件作品。小編貼心叮嚀,即日起到12月10日限時早鳥票NT$160(原價NT$280)已經正式開賣囉,設計迷還等什麼呢?現在,就先跟小編一起預習藝術家凱斯哈林的二三事,再來場凱斯哈林的普普冒險吧!
-----------------------------------------------------------------------------------------
▌展覽資訊
展期:2016 年 1 月 20 日 ~ 2016年 4 月 10 日,週一至週日10:00-18:00(除夕休館)
地點:國立歷史博物館(台北市中正區南海路49號)
票價:即日起至12月10日 預售票價160元(原價:280元)
購票管道:7-11 ibon、全家Famiport、Gomaji、17 Life、博客來售票網
http://goo.gl/vRZkT


才,凱斯哈林(Keith Haring) - MOT TIMES 明日誌




早逝的塗鴉奇才,凱斯哈林(Keith Haring) - MOT TIMES 明日誌




早逝的塗鴉奇才,凱斯哈林(Keith Haring) - MOT TIMES 明日誌
查看更多:MOTTIMES.COM
陳一帆
新增了
8 張相片
。
凱斯哈林「藝術為眾人存在。藝術是生活,生活是藝術。藝術是無法定義的,因為它具有許多無限的意義。藝術,對每個人來說都不同,藝術只有靠觀者的想法才可以為他定義。」
他的創作符號「閃耀的嬰兒」意指為青春的天真、純潔、善良;「咆吠犬」則沒有明確象徵意涵,常常代表行動與懷疑;而「天使」是人們面對生活的守護者;「小人」的各式姿態,則是各種心情的人們;「站立的狗」常代表各類壓迫人們的權力組織。
Tate
'I don't know if I have five months or five years, but I know my days are numbered. This is why my activities and projects are so important now. I'm sure that what will live on after I die is important enough to make sacrifices of my time. Work is all I have and art is more important than life' - Keith Haring, 1987
Keith Haring (1958–1990) used his art to raise awareness of HIV. He himself was diagnosed with the virus in 1988. The artist's poster 'Ignorance = Fear' refers to the challenges faced by people living with HIV and subsequently AIDS. He wanted to reach as many people as possible, and his work continues to highlight the importance of HIV and AIDS education today. A year after his diagnosis, Haring set up The Keith Haring Foundation, to provide funding and support for HIV research, charities and education.
Keith Haring died of AIDS related complications on 16 February 1990, age 31. The Keith Haring Foundation continues to strive to meet Keith Haring's wishes in the fight against HIV and AIDS. To find out how you can make a difference, visit the
Elizabeth Glaser Pediatric AIDS Foundation
(a partner of The Keith Haring Foundation). #WorldAIDSDay
Learn more about Keith Haring and his activism in an exhibition of the artist's work at
Tate Liverpool
from June 2019.
http://bit.ly/2OBiXq9
Keith Haring Ignorance = Fear 1989 © Keith Haring Foundation